Kath
Wissinger (Artistic Director)
Artistic Director Kath Wissinger is all about the bells -- she teaches handbell classes at Redeemer Classical School, directs two church groups ("Spectrum" for youth and "Gloria Dei" for adults), directs and teaches at handbell events across the country, composes handbell music and recently started her own publishing business "ringTrue." She regularly mentors directors and helps with start-up events, coordinates the Education Column for the National Guild's magazine "Overtones" and chairs the Chime Loan Program for Area 3 HMA. A former National Park Service Ranger, Kath also teaches piano in her studio in McGaheysville, VA, and makes the best granola and spaghetti sauce in the world -- about 75 quarts per year. Yum!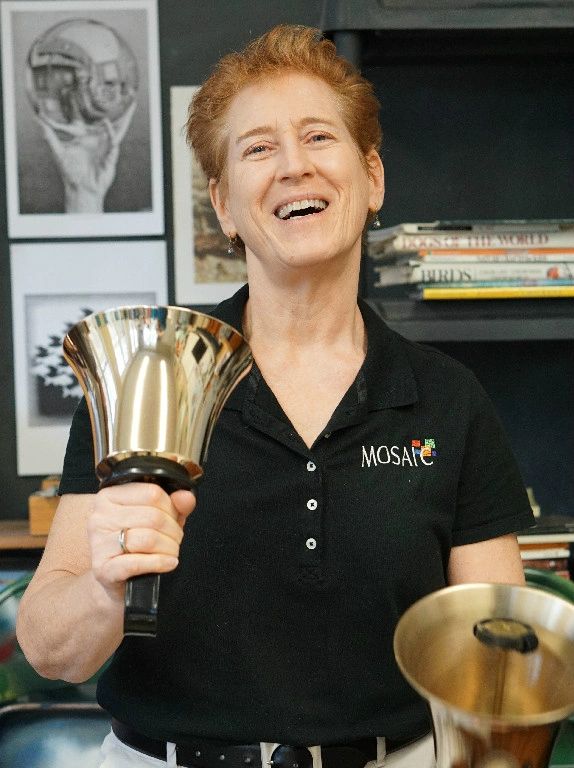 Joanne Bock
Joanne, one of the founding members of Mosaic, has been ringing for about 15 years. She is an RN by day, handbell ringer by night. Joanne lives in Earlysville, VA. She has three almost grown kids and enjoys quilting, embroidery, pina coladas and getting caught in the rain.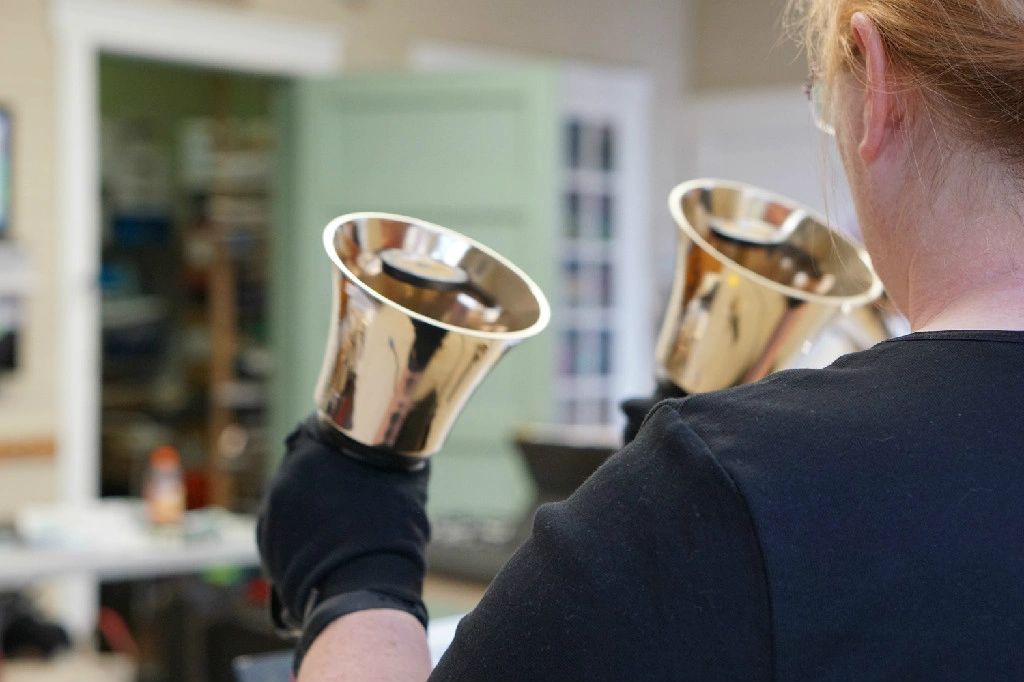 Aimee Buchanan

Aimee never heard handbells play until she was in her late 20s, but jumped at the change to begin ringing in 1999 when her church ordered a three-octave set. She played for nearly 10 years but changed from playing bells to teaching chimes to schoolchildren when personnel changes caused the church group to dissolve. She is thrilled to get back to playing with Mosaic and will be so happy if she can master four-in-hand.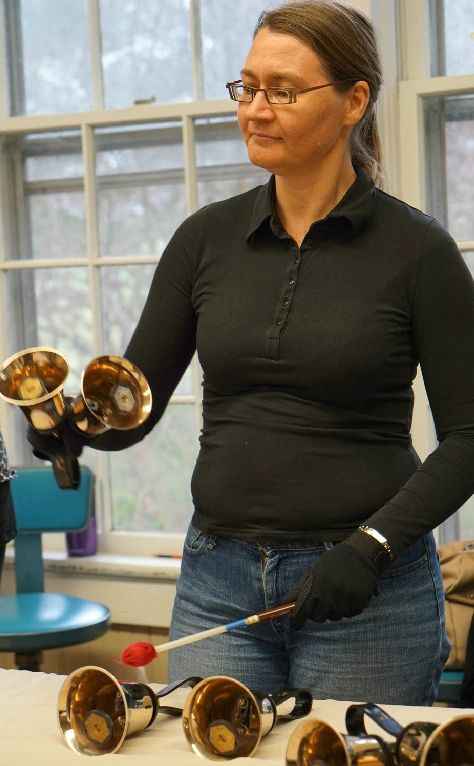 Riikka Halme-Berneking

Riikka loves handbells, especially the magic that happens when several people create melodies and harmonies with the bells. She started playing the English handbells 26 years ago in the very first handbell ensemble in Finland. When Riikka moved to Virginia from Angola, where she still works as a Bible translation consultant, she met Kath and joined Mosaic, where she has now played for several years.
Peggy Kuehl

Peggy is the mother of three daughters and has one granddaughter. She is a registered nurse. A Midwesterner by birth, Virginian by choice, Peggy began singing in the first grade when she scored her first on-stage solo as Mary in the school Christmas play. She was hooked. Peggy learned to play flute and oboe through the school band programs and became a self-taught church organist as an adult. She joined the Gloria Dei Ringers in 2008 and Mosaic in 2015.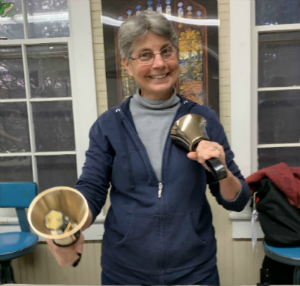 Sue Utterback

Sue retired in 201x after teaching third and fourth grades for 25 years. She has three children and two grandsons and enjoys quilting and spending time with her "wonderful husband." She plays bells with Muhlenburg Lutheran Church and substituted regularly in Mosaic before joining the group as a full-time member in January 2019.



Maryann Wolfe

Maryann has been ringing since 1999 and a bass specialist since 2003. She is one of the founding ringers of Mosaic. Maryann also plays bass with Otterbein United Methodist Church and substitutes for other choirs as well as traveling to events like Bay View Week of Handbells. When not ringing, Maryann enjoys cooking, baking, cross-stitch, and gaming. She teaches creative writing, food writing, and composition at Bridgewater College. Maryann lives in Harrisonburg.